Frequently Asked Questions
What is the schedule of events for the weekend?
How do I get to the Trail Ride event? (DIRECTIONS)
Star, Texas is located on Hwy. 84, in the heart of the Texas Hill Country, approximately 70 miles west of Waco.
Drive to Star, TX. At the intersection of Hwy 84 and FM 1047, turn South on FM 1047. Drive 2.5 miles and The McCasland Ranch entrance is on the right.
We will have signs before you get to the entrance so you can slow down.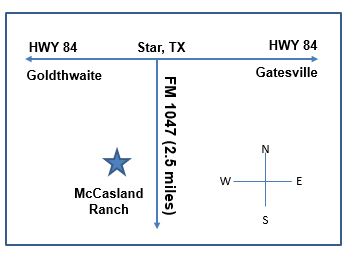 Where can I stay/sleep during Trail Ride?
We have an area for trailers and tents. There is NO electricity. However, there are bathrooms and showers for you to use.
The closest hotel is in Goldthwaite at the Red Bud Inn approximately 20 miles away. You can also stay in a hotel in Gatesville, approximately 35 miles away.
You may also be able to find an Airbnb house or a Bed and Breakfast.
How much is entry to the Trail Ride?
There is an entry fee of $100 per person. 12 and under are free.
Your entry covers the cost of all your meals, the live entertainment, and the trail ride experience.
All proceeds from the event goes toward helping the kids at New Horizons.
Is there water access for my horse?
Yes, we have an area close to the trailer area to water your horses.
When is registration? - - -(You MUST register upon entry whether you paid online or are paying onsite)
You can start arriving at the Ranch at 12 noon on Friday afternoon. We will register you at the entrance. (Drive in through the gate until you see the registration table)
If you arrive after 5 PM on Friday, we will be registering at the main event tent. Once you get settled in, come find us and get registered!
If you arrive after supper on Friday (7 PM or later), we will register you on Saturday morning. Once you wake up Saturday morning, come find us and get registered!
What do I need to bring?
For you:
Tent, trailer, camper to stay in (we do NOT have electricity or trailer hookups in the camp area)
Toiletries (we have showers and bathrooms onsite)
Extra donation money for the auction and raffles
Lawn chairs
Dancing boots
Beverages of your choice (regular or alcoholic)
A big appetite
Ready to have fun!
For your horse:
Negative Coggins paperwork
Feed
Small pen (optional)
What happens if it's raining?
This is a rain or shine event!
Bring your rain suit and mud boots.
How do I register and pay my entry fee?
You can register online or you can pay onsite when you arrive.
Please note that online registration will not be available beginning Friday morning. This is because we have limited online access at the event location.
Are RV/Trailer hookups available?
We have no hookups or electricity in the camp area. We do have showers and bathrooms at the main gathering area.
Can I reserve an RV or trailer spot?
We cannot reserve any spots. It's a first-come-first-serve spot. However, there's lots of room, so you shouldn't have any problems once you arrive.
How much does it cost to just hang out on Saturday evening?
It's $35 a person for Saturday evening only. This covers your meal and entertainment. You can pay onsite.
Can I bring a wagon?
Yes, feel free to bring your wagon. There will be some areas on the trails though where you won't be able to go.
Where can I see pictures of the event?
You can view pictures here. We don't have any for sale, but feel free to reach out to us if you would like to have one.
How's the cell service?
Cell service is a little spotty. There are certain areas you can walk to get a connection.
Have a different question?
Let us know through this form and we'll reach out to you!
if you can't see the form, click here